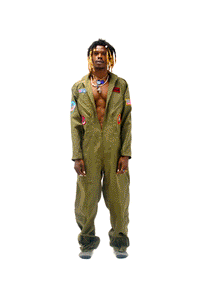 SUSTAINABLE CLOSET SALE
♻️ AVAILABLE NOW!
Marcus Branch Studios presents the Sustainable Closet Sale, an ongoing e-commerce shop curated with pieces for all gender identities and sizes from the closet of artist Marcus Branch.
All pieces from the sustainable closet sale are pre-owned and lightly worn unless otherwise stated. By shopping pre-owned, we are decreasing the negative impact fast fashion has had on the environment and attributing to changing the course.
This round features brands such as Christopher Johns Rogers, Dckies, DKNY, Fear of God, Filas Champion, Levi, Nike, OAK NYC, Parade, Platinum Fubu, Thom Browne, Tommy Hilfiger, Willy Chavarria, Wrangler, Zara and More.
shop now
---
AS SEEN ON 'HARLEM'
Three of my photographs have been televised and are now available to YOU as limited edition prints in various sizes!

Both 'Lou' & 'Drummer' from my Juneteenth series and 'Smile (Miles)' from my campaign for the Branch Pendant Necklace Set can be seen in the 'Black Joy' exhibition curated by Meagan Good's character Camille on Season 2 of Amazom Prime's hit show HARLEM!

1. S(Miles), Philadelphia, PA 2021
2. Lou, Juneteenth Malcom X Park, Phila. PA 2020
3. Drummer, Juneteenth Malcom X Park, Phila. PA 2020
---
As Seen On HARLEM
DROP 1 : NECKLINE

The first official drop from Marcus Branch Studios presents the Limited Design Set that bears the signature Branch Pendant Necklace and Curb Link Choker now in both SILVER & GOLD. (Available as a Set & Separately)

Very Limited Stock. One Time Only.
Black Owned / Queer Owned.
SOLD OUT
---
Marcus Branch Studios
Exclusive and limited edition treasures from Marcus Branch Studios. Black Owned / Queer Owned.

Marcus Branch is a black and queer artist based between Philadelphia and NYC. Passionate about documenting queer and black communities, Branch's photographic work celebrates the BIPOC and LGBTQ+ experience, embraces diversity and inclusivity, and contributes a broadened perspective of underrepresented communities.